The History of the Conch Republic

The Conch Republic was born on April 23rd, l982 in response to a United States Border Patrol blockade of the Florida Keys. Since the United States government insisted on treating the Keys like a foreign country, Key West Mayor Dennis Wardlow seceded from the Union, declared war, surrendered, and demanded Foreign Aid. At the Battle of Key West in the Conch Republic War, the weapon of choice was the stale French dinner roll. During the intervening years the U.S. never reacted to the secession, thereby establishing sovereignty for the Conch Republic under International Law governing "adverse possession between sovereign nations". Today, we are dual citizens, U.S. and the Conch Republic.

A l998 study of Conch Republic Sovereignty at the University of Innsbruck, Austria, concluded that the we have a perfect right to exist as a new form of political subdivision, as the "World's First Fifth World Nation", existing as a "Sovereign State of Mind", seeking only to bring more "Humor, Warmth, and Respect" to a planet we find in sore need of all three; under the International Public Law Principle of a "people's right to assemble" guaranteed to all people under the Vienna Conventions, and UNO Human Rights Declarations, as well as under the United States Constitution.

The Conch Republic has its own passports, both Citizen and Diplomatic that have been accepted by over thirty countries all over the world including the United States, Mexico, Germany, Spain, Ireland, Sweden, Russia, Cuba, and Ecuador. We do not represent our passports as valid travel documents, however, and they confer no special privilege with regards to United States immigration policies.

The Conch Republic has Consulates in Innsbruck, Austria, Honolulu, Hawaii; Fort Kent, Maine; New Orleans, Louisiana; Atlanta, Georgia; and Columbus, Ohio.

Our stated Foreign Policy, "The Mitigation of World Tension Through the Exercise of Humor" joins other Conch Republic World Firsts such as our requirement of both citizens and diplomats to respect local customs as well as laws, our governance as the World's First Functioning Meritocracy, and our recognition of the World Principle of Human Rights and Ambitions (because what good are rights without the ability to realize ambitions?)

We celebrate our Independence annually in a "public and notorious manner" during a ten-day Conch Republic Independence Celebration which will be held the last half of April every year. Watch for the Conch Republic on the Discovery Channel and on the Travel channel, worldwide, on both the "Travelers" series, and on "Phil Keoghan's Adventure Crazy".

For more information contact the Office of the Secretary General, 405 Petronia Street, Suite Two, Key West, FL/CR 33040.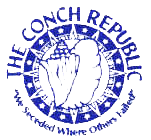 Long live the Conch Republic